2018 INDUCTION- BIGGEST AND BEST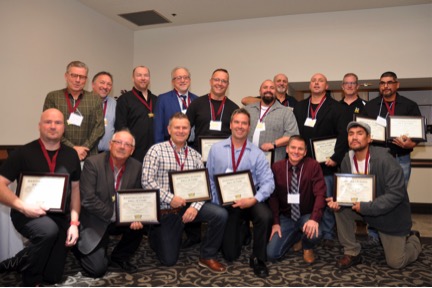 With over 300 family, friends, and lacrosse fans packing the Garden City Inn banquet hall, the 2018 induction was an over whelming success. The ceremony ran smoothly with MC Rick Brownlee introducing the new inductees to the hall of fame: Charlie Benson, Harold Benson, Bill Curtis, Don Leitch, Ryan McNish, Jim Palmer, Gerry Ridler, Willie Trowell, Bill Welligan, Bill farquhar, Rob Gardner, Jim O'Dowda, Albert Pierson, Mo Renaud, Larry Ziffle, 1932 Winnipeg Argonaughts, 1968-1972 Winnipeg North Stars, and 1995 Division 2  Senior National championship team. It was a great reunion as many people had not seen each other in 25 years. The Hall of Fame would like to thank the program sponsors for their support: Lorne Sanders, Awards Canada, J.S. Retail Systems, Youth1st, SportsXpress, Manitoba Lacrosse Alumni, Star Building Materials, Heavy Metal Design, Teamoutfitters, Manitoba Senior Box Lacrosse League, Assinboine Credit Union, Falcons Lacrosse, Freedom 55,  Red River Lacrosse Association, and Manitoba Blizzard.
To see photos go to the Virtual Museum- Historical events tab.