2019 ALUMNI REUNION A GOOD TIME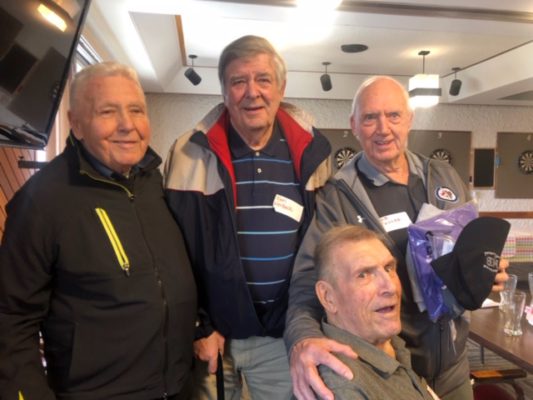 Over 130 alumni attended the 2019 Manitoba Lacrosse Alumni Reunion on Sunday, May 5 at the Elmwood Legion. The Reunion provides an opportunity to reminisce about the old days and remember the old players no longer with us.  The afternoon was full of loud conversation and raucous laughter. 
The highlight of the event was the presentation of the Sam Thompson Good Guy Award to an outstandng volunteer in the lacrosse community. This year's winner was Rob Gardiner- a BC import who immediately got involved in lacrosse in Manitoba as coach and organizer. Rob is currently the president of the Gryphons lacrosse and coach of the Gryphons Bantam A team. Thanks to Rob for all his hard work and congratulations on a well deserved award.   
Following the presentation a light lunch was served and the draws for prizes were made. Many an alumni went home with an arm full of good prizes.
For those in attendance it was a rewarding afternoon of comradeship, conversation, and connecting with old mates. It was good to see a table of players from the 1970's and '80's.
The Manitoba Alumni Association is looking for ideas on how to bolster attendance at the event. E mail the Manitoba Lacrosse Hall of Fame with your suggestions.