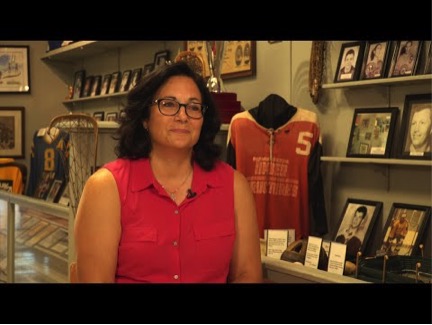 The Legends of Lacrosse interview, featuring Joanne Stanga, has been released in video and podcast format. The Canadian Lacrosse Foundation's Video Lacrosse Library and Lacrosse Talks project features video and podcast interviews of some of Canada's most dynamic lacrosse builders, coaches and players. The purpose of the project is to capture the personal stories of those who have shaped the game over the last 80 years.
Joanne Stanga Biography
Joanne Stanga is one of the important women who helped to build women's field lacrosse in Canada. She was the head coach and assistant coach of the senior women and U19 women's field lacrosse national teams for a 10-year period going back to 1993. She coached the Ontario senior and junior teams beginning in 1990 through 2005 and coached locally in Orillia.
Joanne shared her knowledge of the game as a master course conductor until 2016. As a player, she competed for Canada and Ontario and played as a rep player from 1978-2010.
Along with coaching and playing, Joanne served at all levels as a builder of the game through her administrative acumen. This stretched through all levels--locally, provincially, nationally and internationally. She worked on developing the high school leagues and Summer Games.
All of this work brought her many accolades. She received Orillia's Piper Bain Award and was named a Life Member there, collected the Ontario Lacrosse Association's Mr. Lacrosse Award, the CLA's Lester B. Pearson Award, the IWFLA Recognition Award, and the Queen Elizabeth II Diamond Jubilee Medal.
To top things off, Orillia created the Joanne T. Stanga Award to honour her contributions.
  Click here for a full list of the interviewees featured in the Legends of Lacrosse and Lacrosse Talks interviews.