60 YEARS OF LACROSSE- AN INTERVIEW WITH CAP BOMBERRY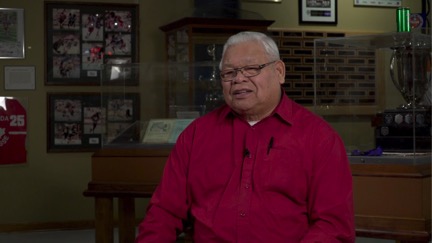 The Legends of Lacrosse interview, featuring Cap Bomberry, will be released in video and podcast format on Thursday June 11. The Canadian Lacrosse Foundation's Video Lacrosse Library and Lacrosse Talks project features video and podcast interviews of some of Canada's most dynamic lacrosse builders, coaches and players. The purpose of the project is to capture the personal stories of those who have shaped the game over the last 80 years.
Cap Bomberry Biography
Cap has been involved in lacrosse for over 60 years. At his induction into the Ontario Lacrosse Hall of Fame it was said, "Cap is renowned for recruiting players for his team and well respected by his community and peers."
Cap played for the Oshweken Warriors from 1959-1973 and won the Presidents' Cup in 1964, 1967, and 1968. He helped out in the minor organization from 1975-88 and was a team manager/GM with the Jr. A Arrows from 1990-1992, winning the Minto Cup in Coquitlam in 1992. This was the first Indigenous team to win the Minto Cup.
He was also the GM for the SN Chiefs from 1993-1997 winning the Mann Cup in 1994, 1995, and 1996. Cap was president and GM of the Six Nations Rivermen from 2013-2019, winning the Presidents' Cup in 2015 and 2019.
Cap has received many accolades including induction into the Ontario Lacrosse Hall of Fame in 1997 in the builder category. He went into the Canadian Lacrosse Hall of Fame in 2001 as a builder and became an Ontario Lacrosse Association (OLA) life member in 2006 and was presented with the OLA President's Award.
Watch all the video stories here: https://www.youtube.com/channel/UCCBvOxZi_Bu2toDatSBvvZA