FOUR NEW LEGENDS OF LACROSSE INTERVIEWS RELEASED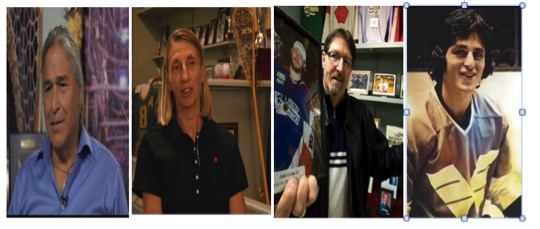 The Canadian Lacrosse Foundation is continuing to document the history of lacrosse in Canada through a series of interviews with Legends of the Game. These interviews not only document the history of our game, the videos capture the characters who built the game as players, coaches, or administrators.
The four newest legends are:
Sam Seward is from the Squamish Nation and has been involved with lacrosse for almost 60 years as a player, coach and manager. As a player he got his start with the North Shore Minor Association and played through Junior B with them. He played Junior A with the Salmonbellies, and was brought up to play with the North Shore Indians Senior B Club. He played in the first World Box event in 1980 for the Can-Am Native team. In 1985 he won the Presidents' Cup with the North Shore Senior B team.He transitioned to coaching both box lacrosse and field lacrosse and on numerous occasions he was named West Coast Senior Lacrosse Association Coach of the Year. In 2006, the Aboriginal Sports Circle named him National Aboriginal Coach of the Year. He has been head coach of both box and field teams at the North American Indigenous Games. Sam Seward is one of the great contributors to the game from the Squamish Nation.
Barb Boyes' contribution to Women's Field Lacrosse in Ontario and Canada goes back to her representing Canada in the first Women's World Field Lacrosse Championship in 1982. She is the Founder and Executive Director of the renowned Oshawa Lady Blue Knights Field Lacrosse Program since 2000. Through her programs, Barb Boyes has been responsible for dozens of Canadian girls playing NCAA and OUA lacrosse. Boyes has served numerous positions within the sport including L.O.S.S.A High School Convenor, Ontario Women's Field Lacrosse Executive, and high school lacrosse coach at many Durham Schools. She has been a player, assistant coach and head coach for the Canadian Women's Field Lacrosse Team, and a player and head coach for the Ontario Women's Field Lacrosse Team. She has also been a Women's Lacrosse Course Conductor for the National Coaching Certification Program. Barb Boyes was inducted into the Ontario Lacrosse Sports Hall of Fame as a Builder in 1999. She was presented with the International Federation of the Women's Field Lacrosse Association Recognition Award in 2007 and the Roots of the Game Award in 2000.
John Grant Sr. excelled in box and field lacrosse. He played in Peterborough and was on the 1972 Minto Cup Champion as the MVP of the series. He won three Mann Cups with the Peterborough Lakers in 1973, 1982 and 1984 where he was also named MVP. With the Canadian Men's Field Lacrosse Team, Grant won the World Championship in 1978. He also enjoyed two years of professional lacrosse in Philadelphia. In 1974 he finished fourth in league scoring and in 1975 finished sixth and set an NLL record for assists with 134. He helped resurrect Peterborough Minor Lacrosse (PMLA) from 67 kids in 1979 to 1100 kids 10 years later, acting within the PMLA as president, VP, house league VP etc. He coached at the minor, senior and pro levels. This included co-coaching Guelph to an NLL title in 1991 and helping guide the Peterborough senior teams for eight seasons. Grant was transferred to Sudbury, Ontario and started up minor lacrosse there. The first registration resulted in 500 kids signing up to play. That resulted in the Greater Sudbury Lacrosse Association. John was president and coaching director, where he coached at all levels. He was also the representative to the Ontario Lacrosse Association (OLA) for Sudbury and was on the OLA Grassroots committee. In 2007 he received the Merv Mackenzie award from the OLA, presented to the person who has done the most for the promotion of lacrosse in Ontario. John Grant Sr. is recognized as a member by the following Halls of Fame: Peterborough Hall of Fame, Sudbury Sports Hall of Fame, Ontario Lacrosse Hall of Fame, and the Canadian Lacrosse Hall of Fame.
Jim Wasson was an outstanding athlete where his spirit and desire enabled him to rise to superstar status in clutch situations. He was an incredible loose ball man and short man specialist as well as a clutch play-off performer. In three years of junior A lacrosse Jim won the team rookie of the year in 1970 and the team scoring championship in 1971. During his tenure in junior A, his P.C.O. team appeared in two Minto Cups winning the championship in 1972. Jim was an assistant captain all three years and led his team in goals during his two Minto Cup appearances with 18 goals in 11 games. Jim Wasson of Peterborough, Ont., was inducted into the Canadian Lacrosse Hall of Fame. He is also a member of the Ontario Lacrosse Hall of Fame and the Peterborough Sports & District Hall of Fames. Between 1971 and 1986, a span of 15 years, Jim appeared in 10 national championships winning six of them. Jim made eight Mann Cup appearances, winning the coveted trophy five times. He captained the Lakers from 1978 -1982. He led his team in Mann Cup scoring in 1973, 1980 & 1982 and was awarded the Mike Kelly Award as Mann Cup MVP in 1982. Jim recorded 1,431 points in his career to rank 11th overall amongst the top 50 scorers ever in Canadian major/senior box lacrosse. One highlight was scoring 11 goals and having 6 assists during one game in 1979; this is a Lakers Major Series Lacrosse record that is still held after 40 years. Jim played professional lacrosse with the Philadelphia Wings in 1974 and 1975. In 1978 Jim was a member of the Canadian Men's Field Lacrosse Team. He scored the tying goal in the championship game to force overtime that led to Canada's victory. He played on the national team from 1978-1982. Jim still maintains a keen interest in sports. After his playing career ended, he helped form the Kawartha Lacrosse Girls Field Lacrosse Club and he coached the senior A Lakers from 1994-1996 and then coached the junior A Lakers in 1997-1998. In addition, Jim coached high school boys and girls field lacrosse. Jim Wasson is recognized as a member by the following Halls of Fame: Peterborough Hall of Fame, Ontario Lacrosse Hall of Fame, and the Canadian Lacrosse Hall of Fame.
Click here for a full list of the interviewees featured in the Legends of Lacrosse and Lacrosse Talks interviews.