FRANK HAWKINS GOES INTO MANITOBA SPORTS HALL OF FAME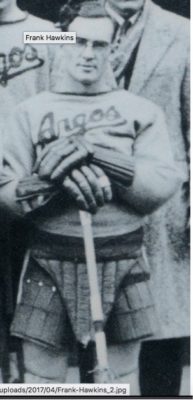 Frank Hawkins, star goal tender and a member of the 1932 Olympic lacrosse team, has been selected to enter the Manitoba Sports Hall of Fame. Frank is already a member of the Manitoba Lacrosse Hall of Fame and the Canadian Lacrosse Hall of Fame.
Frank Hawkins might have been born in Meadford, Ontario, but it was in the minor leagues in and around Winnipeg where he perfected his net minding skills. In 1928, he joined the Winnipeg Arenas and later transferred to the Winnipeg Argonauts for both field and box lacrosse from 1929 to 1933.
 Hawkins phenomenal dexterity carried his teams to 4 provincial titles, Mann Cup semi-finals in 1929 and 1930 and the national finals against Mimico in 1932.
 When lacrosse was named a demonstration sport for the 1932 Olympics in Los Angeles, the team was mainly made up of players from Ontario. Two of the exceptions were Dick Buckingham and Frank Hawkins from Manitoba.
Induction to the Manitoba Sport Hall of Fame will take place Thursday, June 6 at the Club Regent Event Centre at 7:00 PM. Tickets may be purchased at the Manitoba Sports Hall of Fame web site. See you there.