HALL OF FAME OPENS PHYSICAL MUSEUM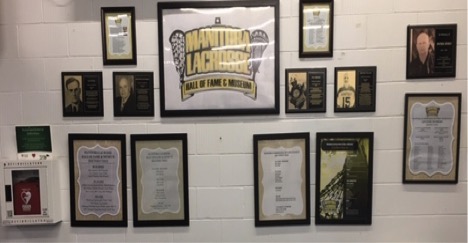 The Manitoba Lacrosse Hall of Fame and Museum successfully launched its virtual museum four years ago. Now the Board is proud to announce the opening of a physical museum that is open to the public. This is the first public display honouring Manitoba lacrosse greats since the display in the East Kildonan Sports Museum at Terry Sawchuk Arena. The museum is located at the Maples Arena, 434 Adsum Road. Next time when you are attending a minor or Blizzard game take a moment to view the display. 
The display lists the current members (players, builders, and teams) of the Manitoba Lacrosse Hall of Fame. The key feature of the museum is four plaques honouring the four Manitobans selected to the Canadian Lacrosse Hall of Fame. Frank Hawkins- was a dominant goalie with the Argonaughts Senior lacrosse team that competed in the 1932 Mann Cup Finals. Frank was selected to represent Canada in the 1932 Olympics in Los Angeles. Also selected to the 1932 Olympic team was Manitoban Richard Buckingham. Richard starred with the Tammany Tigers and the Argonaughts and played in the 1928 and 1932 Mann Cups. The third Manitoban selected for the Canadian Hall of Fame is Harry Nightingale. Harry, an all star player in the '50's, '60's, and '70's representing Manitoba numerous times in the Minto and Presidents Cups. Nightingale was also recognized for his work as builder, reviving the game of lacrosse in Winnipeg in the 1960's. The fourth member saluted in the Museum is Keith McClennan. Keith was an outstanding goal scoring in box lacrosse in the '70' and '80's who represented the province on numerous occasions. In the 1980's and '90's Keith was a dominant field lacrosse player leading Manitoba to three National Championships. To learn more about these individuals click on  "honored members" section of the Manitoba Lacrosse Hall of Fame Museum.