Manitoba Lacrosse Legend Passes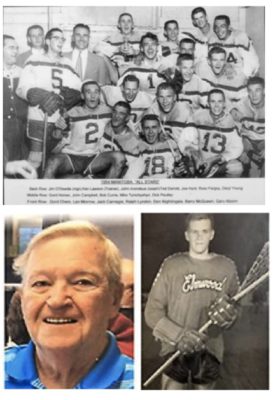 The Manitoba lacrosse community is sadden by the passing of Richard (Dick) Paulley. A shifty speedy winger, Dick played lacrosse on numerous teams in the Elmwood area. The high light of his career was playing the 1954 and 1955 Minto Cup finals. Long after his playing days were behind him, Dick was an avid member of the Manitoba Lacrosse Alumni. He will be missed by his many friends and teammates.
RICHARD (DICK) GLEN PAULLEY February 18, 1935 - November 4, 2019
It is with great sadness we announce the passing of our beloved father, grandpa, brother, uncle, cousin and friend. Dick passed away peacefully on Monday, November 4, 2019 at the age of 84. He was predeceased by his loving wife and soulmate, Beverley (Dodds) Paulley, of 56 years. He will be greatly missed by his son Gord Paulley, Rose Paulley and his grandsons, Nicholas and Steven. Dick will also be loving remembered by his sister Doreen Anderson, brother Ken Paulley, and brother-in-law Ken Dodds (Gail). Also left to cherish his memory are his nephews, nieces, great-nephews, great-nieces, cousins and countless friends. Dick was predeceased by his parents, Clarence and Agnes Paulley, and stepmother Elizabeth Paulley. Dick was born in Winnipeg and grew up in Elmwood and attended school in the area. While in high school at Lord Selkirk he met Bev in Grade 10 and married in 1956. After graduating high school Dick found work at TCA which later became Air Canada. He was there for over 31 years. He started as an office clerk and worked his way up to a management position. He was transferred to Montreal in 1970. He and his family enjoyed six years in the suburb of Pointe Claire, returning to Winnipeg in 1976. His position allowed him the opportunity to travel to many wonderful places for work. Dick and Bev were also able to travel and visited many places: Barbados, Hawaii, Germany, Arizona, and Texas among others. Dick and Bev also enjoyed cottage life at Minaki, Ponemah and Victoria Beach before acquiring a place of their own at Falcon Lake, which they enjoyed immensely. After Dick retired from Air Canada he continued working for IATA for five years till he fully retired. Dad enjoyed playing sports. He was a team member of the Manitoba Junior All-Star lacrosse team in his younger years. His team captured the Eastern Canadian Junior 'A' Lacrosse Championship in 1954. Then in 1955 his team won the Western Junior 'A' Lacrosse Championship. Dick and his team members were inducted into the Manitoba Lacrosse Hall of Fame in 2012 and the Manitoba Sports Hall of Fame in 2017. Dick enjoyed playing hockey, curling and especially loved golfing with his grandsons. He also was a hockey referee - reffing in the MJHL, as well as holding several Referee in Chief positions. Dick and Bev had season tickets to the Jets 1.0 games and enjoyed Goldeyes games as well. Dad enjoyed playing cards and had many wonderful adventures on fishing trips with family and friends. His grandsons played lacrosse in their younger years and grandpa was an honorary coach. Dick took such pride in his grandson's sporting events, endeavours and accomplishments. He attended countless hockey games, soccer games, graduations and award ceremonies. He was very devoted to his family and always provided unconditional love and support. Grandpa could always find a way to make us laugh about his day. Dick enjoyed being active, even in his later years, and volunteered with Meals on Wheels for many years. Even after Dick became a resident at Concordia Village Assisted Living he volunteered to deliver meals within the facility to those not able to attend in the dining area. He also enjoyed and took part in the Christmas Concert productions at Concordia Village where he sang and participated in the skits, which was very much enjoyed by his family. Dick always enjoyed keeping in touch with his friends and colleagues by attending weekly lunches. We would like to thank Stella for her wonderful friendship to Dick and all the staff on the 4th floor at the Poseidon Long Term Care Centre for their dedicated and compassionate care they provided to Dick. As per Dick's wishes, cremation has taken place. A "Come and Go" celebration of Dick's life with be held on Saturday, December 14 from 1:00 p.m. to 3:00 p.m. at Friends Funeral Service, 2146 Main Street, Winnipeg In lieu of flowers, in Dick's memory, donations may be made to the humane society and CancerCare Manitoba.
May you now rest in Peace and forever you will be remembered in our hearts.