2022 HONOUREES ARE IN THE ON LINE HALL OF FAME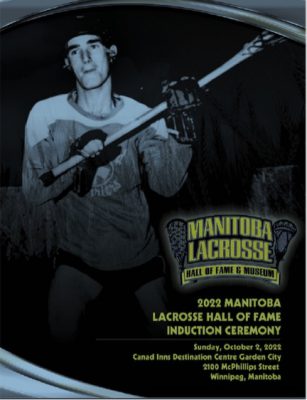 The 2022 Manitoba Lacrosse Hall of Fame inductees are now enshrined in the on line Hall of Fame. If you wish to view the biographies- "click" on "Honoured Members" and then select Player, Builder, or Team category. In each category you will find all the selected members as well as the 2022 inductees. 
If you are prowling the hockey rinks this winter and you have a chance to attend a game at the Maples Multiplex. On the wall in the lobby of the Multiplex is the Manitoba Hall of Fame display highlighting all the inductees as well as the four Manitobans selected to the Canadian Lacrosse Hall of Fame. 
We at the hall are often asked: "How did you select this people for the Hall?". The process of selection is a detailed process of scrutinizing potential candidates. But the whole process starts by a member of the Manitoba lacrosse community completing a nomination form for a candidate. Nomination forms are available on line by "clicking" on "Nominations". Forms can be completed on line and submitted electronically by e mailing the forms to the Board. All forms are forwarded to the Selection Committee who make the determination of the candidates suitability for the Hall. The Selection Committee is composed of five members who are broad cross section of the lacrosse community. The committee is always looking for new members- you can forward your name by e ailing the Manitoba Lacrosse Hall of Fame.