2022 INDUCTEE- 1995 NAIG GOLD MEDAL SENIOR TEAM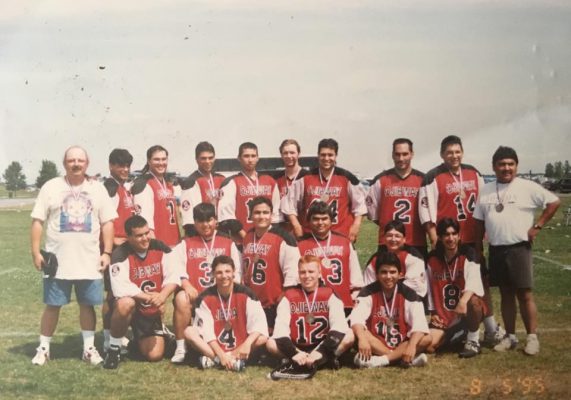 The North American Indigenous Games (NAIG) is a multi-sport event involving indigenous North American athletes staged intermittently since 1990. The Games are governed by the North American Indigenous Games Council, a 26-member council of representatives from 13 provinces and territories in Canada and 13 regions in the United States. The vision: To improve the quality of life for Indigenous Peoples by supporting self-determined sports and cultural activities which encourage equal access to participation in the social / cultural / spiritual fabric of the community in which they reside and which respects Indigenous distinctiveness. One of he featured sports has been lacrosse- both field lacrosse and box lacrosse.
Blaine, Minnesota- a suburb of Minneapolis- St. Paul Region, hosted the third set of games in 1995 NAIG. Competition was held at the National training Centre, a 600 acre campus with over 50 grass fields for soccer or lacrosse, eight sheets ice arena, 18 hole golf course. A cycling velodrome, and 100,00 square feet of indoor space. Over 8,000 athletes from across North America attended the Blaine games.
The Province of Manitoba entered a field lacrosse team in the senior men's category. Mike Gilbert, a physical education teacher from the Sagkeeng First Nation, took on the task of organizing the team. The team was composed primarily from players from Sagkeeng First Nation and indigenous players who played for St. John's High School in Winnipeg. The players from Sagkeeng spent the summer playing in either the junior or senior box league. The players from St. John's High competed in the high school league in the spring of 1995. Four players from Sagkeeng, Roland Bruyere, Trevor Bruyere, Brunson Bruyere, and Stephen Starr went on to be part of Team Manitoba that won the Division II National Championship in Hamilton in the fall of 1995.
The senior field lacrosse tournament was not well attended with only three teams in the competition- Alberta, Minnesota, and Manitoba. Manitoba swept the round robin portion of the tournament earning a bye to the gold medal game. Manitoba defeated Alberta in the gold medal game; in the NCAA referees described as the "best game" they ever officiated.
The team arrived home with their gold medals in hand to little fan fare. To this day most Manitoban are not aware of this teams accomplishments. Members of the team are: Chris Prince, Bill Stevenson, Mike Gilbert (Coach), Rollie Bruyere, Brunson Bruyere, Stacey McIvor, Larry Sharpe, Karl Courchene, Doug Gerrard, Lawrence Bruyere, Myles Morrisseau, Steve Starr, Neil Bruyere, Norbert Fontaine, Richard Kirton, Jason Fontaine, and Rob Bruyere.