'49 MORE THE SAME AT MINTO CUP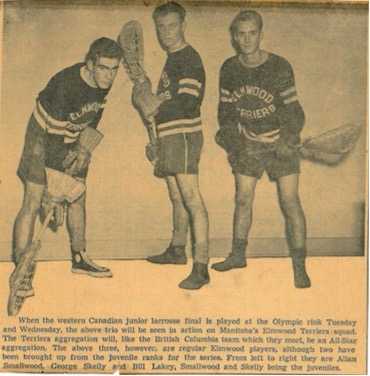 In 1949, everything that was old is new again, as the provincial champion; Elmwood Terriers represented Manitoba in the Minto Cup play downs against the BC junior league all stars. Coach Les Swaffer built the team around the champion Terriers, with leading stickmen from the West End Memorials and Deer Lodge clubs were selected to bolster the team. The final roster was made up of goalies , Keith Gray and Clark Hicks, with William Lakey, Jack Bownass, Ted Ermet, and Al Bennett anchoring the defense and forwards Victor Heaton, Jack Rafferty, Al Smallwood, Stewart Holms, Cliff Hamilton, George Skelly, Lionel Merrick, and Ray Catton.
The young determined team 'Toba team had their hands full with the extremely large, talented, and experienced BC All Star. With most of the BC all stars with Minto Cup experience and only two players under 200 pounds, the powerful west coasters proved to be too much for the younger, smaller Manitoba team.
In the first game of best of three series, BC overwhelmed Manitoba 15 to 4 at the Amphitheatre. The BC team after a slow start had a 7-2 lead in the second period, increasing their lead to 10-2 in the third period. At the start of the fourth period, Manitoba struck for two quick goals, and BC responded with five straight goals. Manitoba scorers were Stu Holm with two and singles going to Jack Rafferty and Lionel Merrick.
In the second game, marred with a half dozen fights, BC coasted to a 20 to 8 victory, sweeping the series two games straight. The small crowd in attendance had little to cheer about as Manitoba was down 11 to 1 half way through the game. Goal scorers for Manitoba were Al Smallwood with three and singles by George Skelly, Al Bennett, Jack Bownass, Ted Ermet, and Ray Catton. Undaunted by the two defeat, Manitoba coach Les Swaffer told the newspapers: "The day will come when we will have our innings". In may take two more years but Manitoba will prove its worth in the Minto Cup.