'51 ALL STAR PASSES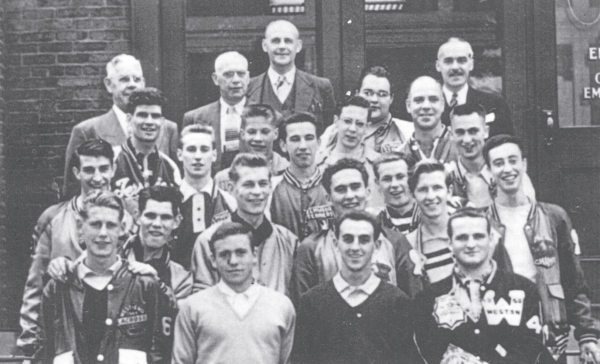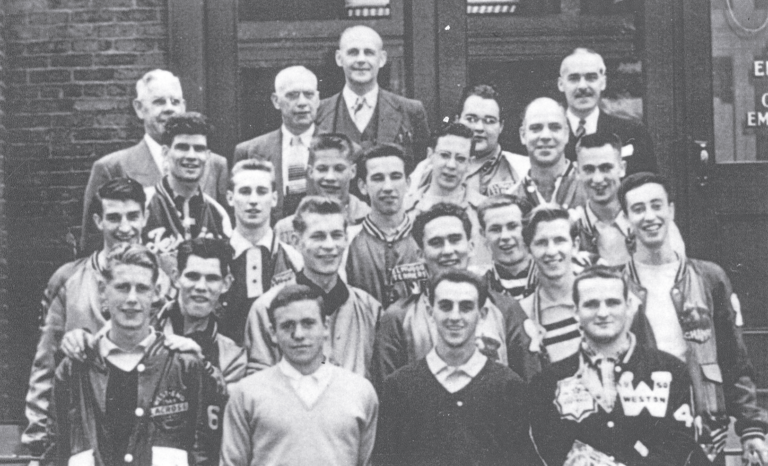 The Manitoba Lacrosse Hall of Fame is sad to announce the passing of Doug Arklie a member of the 1951 All star team that captured Manitoba's first Western Canadian Junior "A" lacrosse championship defeating the British Columbia  representatives in a three game series in 1951. The team made history, carrying Manitoba's colours into the Dominion lacrosse final for the first time where the All-Stars met the Eastern representative, the Mimico Mountaineers, for the Minto Cup. The train weary Manitoba squad lost three games straight. Doug was selected to the All Star team for his outstanding working playing for the Senior Wellingtons. The team composed of largely juvenile aged players rallied around Doug his junior aged teammates. 
Obituary from the Winnipeg Free Press Saturday, March 18, 2023:
DOUGLAS RONALD ARKLIE February 15, 1932 - February 7, 2023
With sadness and love, we write that our father, Douglas Ronald Arklie, passed away just a few days before his 91st birthday. Ron is survived by his daughter Sharron Mahon (Ian), son Chris (Sharlene); grandchildren, Rob and Megan Mahon and Brett Arklie; and by his sister, Dot Dickner. He was predeceased by his beloved wife Dorothy, parents, William and Ivy, brothers, William, Ernie, and Jack, and sisters, Anne, Beckie, and Trudie.
Ron grew up and went to school in St. James. He and Dorothy began dating in high school, and married two years later in 1954. They were together for 70 years, until Dorothy's death in 2021. As a young hockey player, Ron was such a smooth, effortless skater that he sometimes got into trouble with coaches who thought he wasn't trying hard enough. Playing with the Deer Lodge Vanguards, he helped win the 1949-1950 Juvenile Hockey city championship.
He also played on the 1951 Jr. "A" Lacrosse All-Stars team that won the Western Canadian championship. In 2012, Ron enjoyed re-connecting with many of his old teammates when that team was entered into the Manitoba Lacrosse Hall of Fame.
Ron also refereed hockey, and travelled all around southern Manitoba to games regardless of weather. His efforts weren't always appreciated, sometimes resulting in parking lot confrontations and, on one occasion, sugar in his gas tank. He enjoyed telling those stories more than living them!
Not long after they married Ron and Dorothy moved to Transcona, where Sharron and Chris grew up. Ron worked as a carman and welder at the CN shops for almost 30 years, walking 20 minutes each way in all but the worst weather.
On retirement, he and Dorothy moved to Sandy Hook. Together they finished the interior of their home on the golf course, including a beautiful cedar loft ceiling that still looks amazing.
Golf was the theme of Ron and Dorothy's retirement. They played in Portugal and Jamaica, and enjoyed many years of winter golf in Texas. All that practice paid off with Ron's three holes-in-one at Sandy Hook, with the third shot when he was 71.
Dad was never talkative, but he taught us by example: Anything worth doing is worth doing well. Measure twice, cut once. Pay your debts and keep your promises. Laugh at yourself first! And take care of each other.
Many thanks to the staff at Tuxedo Villa for their care of Dad since last April. There should be more of you, and you should be paid better.
A Celebration of Life will be held at the Deer Lodge Community Club, 323 Bruce Avenue East, on April 11, 2023 at 1:30 p.m.
In lieu of flowers, if you wish to contribute to a charity in memory of Dad, please consider the Alzheimer Society of Manitoba.
The Manitoba Lacrosse Hall of and Museum pass on condolences to Doug family and many friends.