'BREAK AWAY KID' WILL ALWAYS BE REMBERED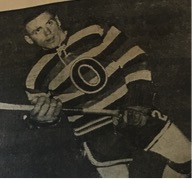 The Board of the Manitoba Lacrosse Hall of fame is saddened to announce the passing of Jim Palmer (Hall of Fame Inductee, 2018).
Jim started playing lacrosse at Deer Lodge Community Centre under the instruction of Tom O'Brien. Jim tells the story of O'Brien giving each player a nickel to ride the streetcar to Kelvin for the games. After the game each player received another nickel to ride the streetcar home wearing his dirty, sweating jersey. The streetcar ride did not hurt the team's play as they captured the Midget championship in 1946 and the Juvenile crown in 1947.
From Deer Lodge, Jim went on the play junior lacrosse with the Wellingtons. The Winnipeg Free Press described Palmer as a "small swift running defenseman...with very accurate shots and passes". It was these skills that made him a valuable member of 1951 Junior All-star team that went on to capture the Western Canadian Championship defeating the BC All-Stars in a three game series (2 games to one).
During the series, Palmer was labeled by the Tribune as the "break away kid" displaying "rabbit-like agility" and the "heart of lion" as he "ran through a mob of BC defenders". His play was not all flash and dash as he contributed on the score sheet with a goal and four assists in the first game of the series.
After the 1951 season, Jim continued to play lacrosse with the Junior Wellingtons finishing his career in 1957 with the Senior Winnipeg Olympics.
Jim was an all round athlete playing a number of sports- one issue of the Winnipeg Free Press has an article describing Jim's impressive play in the Western Canadian Lacrosse Championships, with another article right next to it describing Palmer as key linebacker on the Weston Wildcat Junior Football team for the upcoming season. Jim was a relatively small player who played large.
Jim was an active member of the Manitoba Lacrosse Alumni until his passing. Jim was a key member of the Veterans Committee that assisted in identifying outstanding players from the '40's and '50's. Jim was always ready with a worthy candidate and a story of their achievements, but he never mentioned himself as a passible honouree. It was in the process of researching these other nominees in old newspaper articles, that Jim's talents were noticed.
I always looked forward to talking with Jim at the spring Alumni Reunions. My brief conversations about lacrosse, life, and family will always be cherished. Jim will be remembered as a humble, quiet gentleman, with a gregarious smile and a quick wit.
Jim will be missed by the lacrosse community.