LAX COMMUNITY SADDEN BY DEATH OF YOUNG PLAYER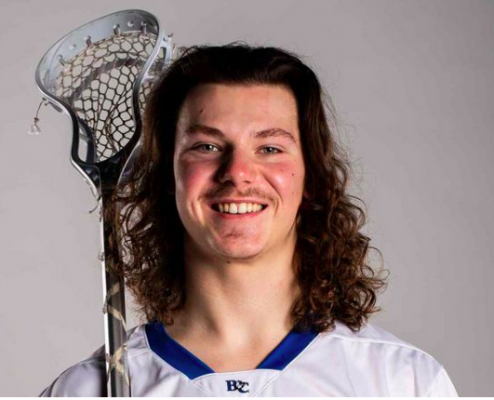 November 22, 2000 - March 20, 2023 The family of Seth Mandryk is devastated and heartbroken at the loss of our son and brother at the age of 22.
Seth will be forever remembered by his proud and loving parents Peter and Paula, brother Sam (Symantha), sister Dana (Jason), Baba Lena, Auntie Brenda, Uncle Gino, Auntie Donna, Uncle John and numerous cousins and friends. Seth was predeceased by his Gigi, Nonnie and Grampa.
Seth will be remembered for his big heart, social spirit, love for sports and his will to never give up.
Seth has been characterized by those who know him best as kind; polite; respectful; helpful; caring; funny; friendly; thoughtful and always smiling and willing to help out. Seth was hard working, a good teammate and always fit in well with a positive attitude. He was always punctual and never liked to be the last guy to class or practice and was always very appreciative of his opportunities. Seth was an overall awesome guy and leaves a lasting impact on anyone he crossed paths with. He was easy going but also had no problem speaking his mind. Seth was an absolute "beaut" and the best little bro.
Seth always had something funny to say and was especially quick at one liners. He had a sarcastic side as well which was just as comical. Seth would entertain us with his talent for remembering and reciting lines from movies or singing songs or jingles without hearing the music.
Seth was always so friendly and whenever he saw anyone, he would do his half wave with his elbow tucked into his side and flash his big smile.
When Seth had down time he enjoyed hanging at home, playing Xbox online against Sam or his friends or just hanging out with his friends or family. When he was home in the summers, he could be seen rollerblading all around town. Seth enjoyed fishing with the boys even though he was usually the only one to never catch. People would gravitate towards Seth as he was entertaining and fun to be around. It was fun to watch hockey with Seth as he always had many humorous comments. Seth became a self-taught cook and liked to try different recipes. He was very proud of perfecting the spices in barilla tacos or making a delicious burger which would include an egg, fried onions, and avocado.
Seth grew up in Stonewall, MB where he attended school from K-12. Seth graduated with honours from SCI in 2018.
Seth was preparing to graduate this past May with a master's degree in TESOL (Teaching English to Speakers of Other Languages). He joined Greensboro College in North Carolina in 2022 as a graduate of Barton College also in North Carolina where he earned a bachelor's degree with magna cum laude distinction in English.
Proudly, from 2018-2022 Seth played lacrosse for four seasons at NCAA Division II Barton College. Each year Seth earned academic recognition by being on the Barton College Dean's Honours List, the Conference Carolinas Presidential Honour Roll, and the Conference Carolinas Academic All-Conference team. In 2021 Seth was selected to the Conference Carolinas Championship Lacrosse All-Tournament Team.
Seth loved college life, playing lacrosse and his teammates, friends, coaches, trainers, profs and advisers. We are so grateful Seth had these friendships.
Growing up, Seth played field lacrosse for True Manitoba travelling to many USA showcases and tournaments. Seth was proud to represent Team Manitoba as an All-Canadian in the U18 all-star game. Seth loved playing box lacrosse and being a part of the Manitoba Blizzard Junior team. Winning the league in 2017 was one of Seth's proudest sports memories.
Hockey was Seth's other favourite sport. If Seth wasn't playing hockey, he was watching hockey. When he was younger, he would spend many hours with friends on the outdoor rink. Seth loved playing High School hockey.
Seth's passing has left a huge hole in all our hearts. We are forever grateful that Seth will always be a part of our family and we will miss and think of him every day.
Our family would like to thank the enormous amount of support we have received from our Family, Friends, Barton College and Greensboro College Coaches and Seth's Teammates, College Friends, and College Admin, as well as the Stonewall community. Thank you for all the food, gift cards, flowers, support, and kind words about Seth. We are grateful and will cherish the memories that have been shared with us.
A celebration of Seth's life will be held at 2:00 pm on July 6, 2023, at the Stonewall Heritage & Arts Centre, 166 Main St. As there is limited seating, Seth's celebration will be live-streamed,