MANITOBA LACROSSE LOSES A GREAT GUY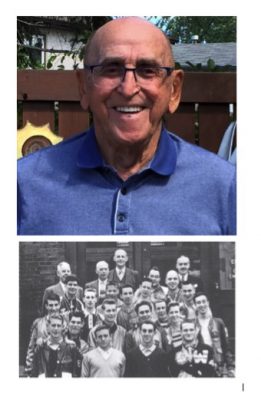 Bill Welligan, a long time member of the Manitoba lacrosse community passed away last week. Bill was a great player,  sound on defense- scoring goals at critical times of the game. As good a player as he was, he was even a better teammate- doing what ever the team needed to be successful. Bill was a regular at the annual Manitoba Lacrosse Alumni Reunion. Bill will be missed.
In preparation for the 1951 Minto Cup play downs versus the BC All stars, the Winnipeg Tribune described Bill Welligan as a "hard-checking rover, very deceptive and accurate around the net. Bill was the sixth top goal scoring in the (senior) league." Later in his career Bill was described by the Winnipeg Free Press as "a husky defender." Through out his career he was a strong player at both ends of the rink. Bill started lacrosse at Isaac Brock Community Centre under the guidance of coach Ron O'Hara, Winning the midget city championship in 1947. In 1949 Welligan captured the juvenile city championship playing for the West End Memorials. Through out his minor career Bill proved to be a reliable scorer with numerous multi-goal games. With the junior Wellingtons, Bill continued to contribute to the team's offense while playing strong defense. This strong play made Bill a valuable member of the 1951 Manitoba All Star team that took on the BC All stars in the Minto Cup Western Play Downs. Bill was a steady force through out the three game series, leading Manitoba to victory with 2 goals and 4 assists in the pivotal second game of the series. The Manitoba All Stars rolled on to win the third game, with Bill scoring the winning goal. After the 1951 season, Bill went on to play senior for Deer Lodge. In the 1954 playoffs versus a strong Elmwood squad made up of 10 future hall of famers, The Winnipeg Tribune lauded Bill "as a one man team- scoring three straight goals" to bring Deer Lodge even in the game. Bill continued to be a reliable scorer playing for the Winnipeg Olympics in the senior league.
Left to cherish his memory is his loving wife of 69 years Betty, daughter Janice (Rick), son Grant (Liz) and daughter Susan. His legacy will continue with his grandsons Ryan (Ansely), Reid (Chelsea), Neil (Diana) and Jeff (Cresta) as well as his great-grandchildren Avery, Jayce, Ethan, Tyler, Ava, Zachary, Cole, Hayden and Scotty. He was predeceased by his mother Jean, sister Marion and daughter-in-law Donna.
Bill worked at CPR for 37 years, and upon retirement consulted for 3 years in Bangladesh implementing a locomotive maintenance program. They were fortunate to travel and see much of Asia and Europe. Many happy winters were spent in Hawaii, and summers spent at Grand Beach camping with their lifelong friends and family.
Bill was honoured being inducted twice into the Lacrosse Hall of Fame. Once with the 1952 Junior All Stars Team and then as an individual player. He was also an avid golfer and curler.
Over the years Bill was always eager and ready to help with a rec room build, cottage improvement or any house hold project which allowed him to pass on his expertise and work ethic to his kids and grandsons. He was a true perfectionist as we can all attest to.
Special thanks to Dr. Hingwala, Dr. Rafikov, CancerCare Manitoba, Palliative Care nurse Trish and Dr. T. Hiebert for their care and compassion.
As per Bill's wishes, no formal service will be held. A private family Celebration of life will be held at a later date. In lieu of Flowers, donations can be made to a charity of your choice.