MINTO CUP PLAYDOWNS BACK IN 1940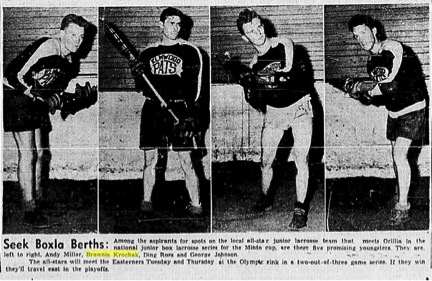 After some backroom wheeling and dealing, the Minto Cup play downs were re-started in the Fall of 1940.
For a second time in three years, Orillia comes to Winnipeg on its March to the Minto Cup. Quite a rivalry has been built up between these two cities- with Manitoba falling to Orillia in two Mann Cup play downs in recent years.
The Eastern opponent will be built around a core of the current Minto Cup champion and Ontario champions- the Orillia "Baby" Terriers. Rule changes negotiated over the off-season allowed each province to be represented by an all-star team. The change was made to end the bickering between Ontario and BC over allegations of stacking their Minot Cup teams. This rule change did not affect Manitoba, which had been allowed an all-star team since 1937. Manitoba all-stars are hand picked aggregation from the only two junior team in Winnipeg (the league champions Elmwood Pats and the West End Argos). The two teams played in the newly formed Winnipeg Intermediate league, composed of the two junior teams and the Glenwood Tigers comprised of former Elmwood junior stars. The goal of this new league was to provide variety of competition while raising the level of competition. This move was hoped to improve Manitoba's presentation in the Minto Cup play downs.
This all-star team under went a two a day weekend training camp under the watchful eye of coaches Oliver Redpath and Bert Ogston prior to the Minto Cup games on September 17 and 19. The series is a two game total goal competition. After the tryouts the following roster was selected: 3 time Minto cup goalie, Andy Branigan, Dave Ross, Dick Watt, Andy Millar, Lloyd Sinclair, Johnny Arondus, Brownie Krochak, bill Pearce, George Johnson, Richie Ward, Norm MCAllister, Johnny Hossack and K. Lawson. The bulk of the roster should be ready for the competition as they played in the '38 series.
The results were predictable as the well-organized smooth passing Baby Terrier swept the two game total goal series. Also predictable was the pattern within the two games- Manitoba started slow and as they became more comfortable with the pace of play, the All Stars were able to compete with the Eastern representatives. The Manitoba scoring was spread through out the roster, with Ken Hunter, Norm McAllister leading the offense. Many of quality scoring chances were swallowed up by Terrier net minder Doug Favell. Favell kept the late Manitoba in the second game rally from ending in a "Toba victory.
Orillia moved on defeated to New West Minister where they defeated the Salmon bellies to capture another Minto Cup.