ORILLIA TERRIERS COME TO TOWN in 1938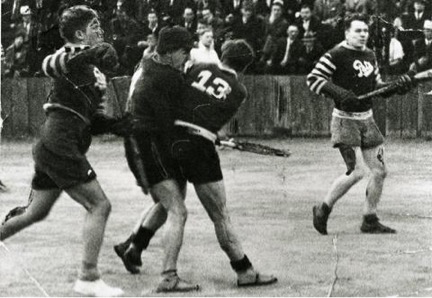 After getting their "feet wet" in the 1937 play downs against the Vancouver Bluebirds, optimism was high for their 1938 visit by the Orillia Terrier- Ontario junior champions, who Defeated St. Catherines in the Ontario final.. This optimism was fueled by a highly competitive junior league play. In the two-team league, West Ends and the Elmwood Pats, split the games with seven wins a piece. What the scheduled lacked in variety was more than made up in the quality of play. The regular season play was followed up with a seven game series, that the Pats won 4 games to two. The coaches, Chuck Harding of the West Ends and Elmwood's Reg McGraith had time to drill their teams, each developing units displaying smart team play. The feeling was that this might be one of the best-prepared teams, Manitoba has sent to a national competition.
The Pats roster made up juvenile and junior aged players: Andy Branigan, Dave Ross, Dick Watt, Ritchie Ward, Andy Mutar, Brownie Krochak, Jphnny Arondus, Bill Pearce, George Johnson, Andy Miller, Lloyd Sinclair, Morris Macalister, Bill McGill, and K. Lawson. After the playoffs the Pats added West End sniper Ken "Red" Hunter to their roster.
This optimism was tempered with the realization that Orillia had bolstered their championship squad with selection of all stars from the Ontario junior league. As well the Terriers were motivated to move on and play against against the New Westminster Salmon Bellies, who poached five of the Dogs top players in the off-season.
From the paltry attendance (200 fans) at the first game of the two game total point series, it appears most local lacrosse fans felt that the Pats would be in over their heads against the skilled and experienced Ontario representative.
This was certainly true in the first game, where the smooth passing drilled offence ran the Winnipeg squad out of the Olympic Rink. The Terriers started fast taking control of the game from start to finish. Potting goals for the Pats were Norm Macalister (2), Craig Lawson (3), Red Hunter (2), Bill Peace (2), and John Arondus (1).
 While the Winnipeg team lost, their play was much improved. Especially so in the third and fourth quarters where the 'Peggers' dominated play with the Terriers falling back into a defensive posture.
The results of these games highlighted the biggest challenge facing Manitoba lacrosse- playing against superior teams prior to the play downs. This has been a reoccurring theme for Manitoba lacrosse for the past 90 years. The development of top-flight talent in Winnipeg was further hindered when two of the provinces best players signed to play with Orillia Terriers.
But with the bulk of the Pats players being of juvenile age, hope springs eternal that these young bucks will lead Manitoba to inter-provincial victories.
 The Eastern Canadian champs traveled directly to New West Minister where they soundly defeated by the Salmon Bellies.