SQUABBLE OVER MONEY END MINTO PLAY DOWNS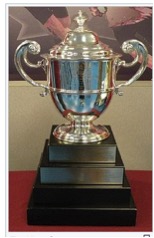 An often heard cliches is "History repeats in self". This is certainly true in amateur sports where money is often the root cause of decisions that have longer term impact on the sport. This especially true in the game of lacrosse. Read the example below:
After Manitoba was out classed in their first two attempts (1937 and 1938) in the Minto Cup play downs- what could be worse? Not playing at all. Manitoba withdrew from the 1939 Minto Cup play downs in dispute over money. The CLA demanded that Manitoba lacrosse put up a $300.00 guarantee (that would be $6000.00 in todays money). Last year, Manitoba turned over the total gate receipts ($500.00) of the Minto ad Mann Cup games played in Winnipeg. The CLA wanted the receipts from the Minto Cup games as well as the guarantee.
To add insult to injury, the Manitoba team was described by Scott Young as "the best  lacrosse team in history". The team was the most experience squad Manitoba fielded- with the bulk of the players playing in the last two play downs. For the first time team 'Toba was comprised almost entirely of junior aged players. In the first two go-rounds, the majority of the team were still of juvenile age. The league champion Pats were bolstered with half the West End squad- making this the most talented team to represent Manitoba.
Local lacrosse fans responded to the situation with rallies and protests- but to no avail- the CLA would not move from their demand of $300.00 guarantee. In response to the cancellation of the Mann Cup play down game in Winnipeg, the MLA responded by expanding the provincial senior championship to a five game series between the Elmwood Pats and the Wellingtons rather than the usual best of three final. To support the game of lacrosse, fans packed the stands at the old Olympic Rink- cheering as much for the game of lacrosse as their favourite team.
The future of interprovincial lacrosse for Manitoba was unclear. It was hoped that a deal could be worked out to resume Minto Cup play downs in Manitoba.