WINNIPEG NORTH STARS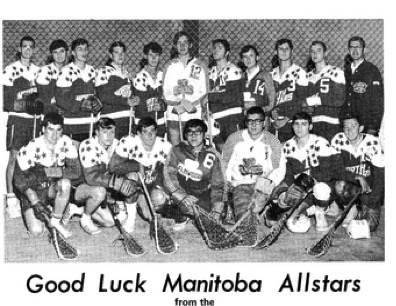 The Winnipeg North Stars team was a concept brought to fruition by Hall of Famer Harry Nightingale. In the mid-1960s, Harry firmly believed that Manitobans could compete nationally at the Junior level if only they could face high-level competition throughout the season. In 1968, Harry made his idea a reality and the North Stars were born.
That 1968 team played in the Winnipeg Senior Lacrosse League and went on to win a Silver medal at the Junior B Canadian Championship. Team members were Calvin Paul, Barrie Heindl, Bill Stearns, John Schillinger, Bill Crook, Vic Nishiziki, Don Paul, Bruce Hill, Rick Sedgwick, Dale Pancoe, Ron Boyko, Dale Davis, Vince Orchard, Al Hill, Jamie Berzuk, and Jim Love. Gord Horner assisted Harry with the coaching duties.
In 1969, the North Stars lost to the Elmwood Shamrocks in the Senior league finals. They then represented Manitoba well at the first ever Canada Summer Games in Halifax, losing the Bronze medal game to Quebec. This team was made up of Bill Stearns, Bill George, Bruce Hill, Don Paul, Rick Sedgwick, Gord Pottinger, Al Hill, Dale Pancoe, Jim Love, Ron Boyko, Vince Orchard, John Pirie, Jack Alexander, Al Stewart, and Brian Haggart. Harry, of course, held the coaching reins.
In 1970, the North Stars finally did it – they won the local Senior league, defeating the Shamrocks in the finals. The squad then went on to defeat BC for the Western Canadian Junior B championship. Harry's winning team consisted of Bill Stearns, Dave Martin, Jack Alexander, Bruce Hill, Don Paul, Gord Pottinger, John Bednarski, Jim Love, Al Hill, Mark Izzard, Brian Haggart, Wayne Nichol, Dale Pancoe, Rick Sedgwick, Larry Boyle, John Joss, and Rich Malawski.
In 1971, the North Stars repeated as Senior league champs, but lost to BC at the Junior B nationals. With many new faces, team members were Don Paul, John Bednarski, Dave Martin, Jim Love, Al Hill, Gord Pottinger, Larry Boyle, Al Stewart, Bill Crook, Mark Izzard, Wayne Proceviat, Ed Lennon, Al Niemar, Kent Pownall, Bob Lamoureau, Ted Gervais, Ralph Deda, Doug Smith, and Al Park. Helping Harry out as manager was Wolfgang Tober.
The North Stars won their third straight Senior league championship in 1972, defeating the St. Boniface Clubs in the finals. At the Nationals, the team faced powerhouses Ontario and BC, and more than held their own.
After the '72 season, Harry realized that the North Stars had accomplished their goal of raising the level of Junior lacrosse to the point that a Junior league could now be formed. Teams were established in Elmwood, the North End, St. James and St. Boniface – all thanks to Harry Nightingale and his dream.