TEAM MANITOBA-1995 Tier 2 Men's FIELD LACROSSE NATIONAL CHAMPIONS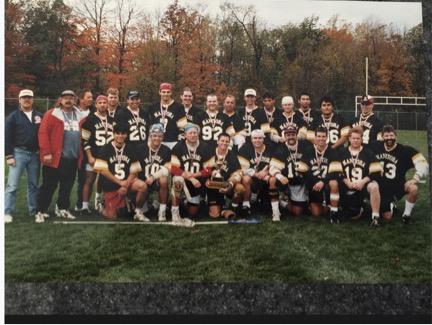 The history of lacrosse development in Manitoba is one of ebbs and flows. In 1995, the field game was rather stagnant at the Senior level. The mid-'80s had seen the game enjoy a bit of a renaissance as it was reintroduced to the lacrosse community in Manitoba, sending senior teams to compete in the national championships. The late '80s and early '90s, however, saw Senior field lacrosse played only at the recreational level in the province.
A group of diehards decided this situation was trending in the wrong direction and gave the game a shot-in-the-arm by deciding to send a Senior team to the nationals. A few holdovers from the provincial teams of the '80s served as the core of the squad. Younger players from box and high school field joined the veterans to form 1995's Team Manitoba. The team practiced over the summer in preparation for the October nationals in Hamilton, Ontario.
At the national championship, Team Manitoba was up against squads from Victoria and Toronto. As everyone knows, BC and Ontario are Canada's 'hotbeds' for lacrosse, so our boys were a little leery entering competition. The first game saw Manitoba defeat Toronto 21-3, automatically putting them into the semi-finals where they thumped Victoria 14-4. The best-of-three final pitted Manitoba against Toronto, where the good guys won two straight by lopsided scores of 24-2 and 15-7.
The team was composed of: Larry Ziffle (Manager), Mike Gilbert (Coach), Bill Klyzub (Assistant coach), Darcy Jeanson, Joe Isjford, John Harding, Mike Carter, Serge LaChance, Murray Roy, Stacey McIvor, Trevor Bryere, Jason Isjford, Brunson Bruyere, Steve Star, Jason Fontaine, Rollie Bruyere, Chris Jankowski, Joe Harris, Glen Kerlin, Keith McClennan, Cory Kantyluk, and Dave Dobson.
Team Manitoba's superiority on the field was obvious. Its performance was highlighted by attackman Keith McLennan being named Tournament MVP and Willie Trowell being selected as the All-Star Goalie.
More significantly for lacrosse in Manitoba, the team proved that Manitoba could now compete nationally – against absolutely anyone!