Gerry Ridler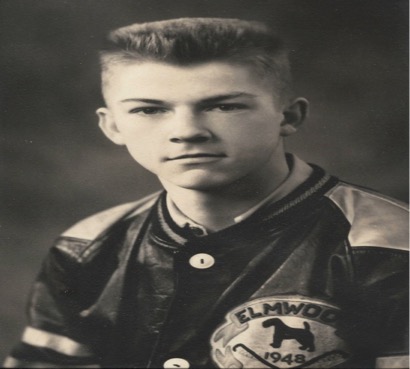 Gerry started and finished his career playing for Elmwood- first as a Terrier, then a Shamrock, and finally with the Drewerys. Gerry learned to play the game of lacrosse on Kelvin Community Centre's box. It was here that Gerry developed the skills that made him a prolific goal scorer and an outstanding play maker.
These talents were recognized when Gerry, as a Juvenile aged player, was named as a utility player for the 1947 Junior All star team that would compete in the Minto Cup (emblematic of the Canadian Junior National Champions) Play downs.
In 1948, Gerry's Elmwood Terriers captured the Winnipeg Minor Juvenile Championship. Moving directly from the Juvenile Terrier to the Senior Shamrocks, Gerry proved to a top scorer in the senior loop. Gerry finished in the top three scores in the senior league every year, capturing the scoring title in 1952 (36 goals and 12 assists).
The combination of Ridler and Lionel Merrick became the one-two punch, leading the Shamrocks to the 1951 and 1954 league championships. Gerry captured his last championships with the 1956 and 1958 Elmwood Drewerys. Gerry finished in the top three scores in both of these playoff series.
Selected to the Manitoba Junior All Stars, Gerry went on to represent Manitoba in the 1950, 1951, and 1955 Minto Cup Play downs, with '51 and '54 teams reaching the finals after beating representative from BC and Ontario respectively. Gerry was an accomplished scorer in league play, play off games, and national competitio