1982-1991 WINNIPEG WARRIORS SENIOR MEN'S LACROSSE TEAM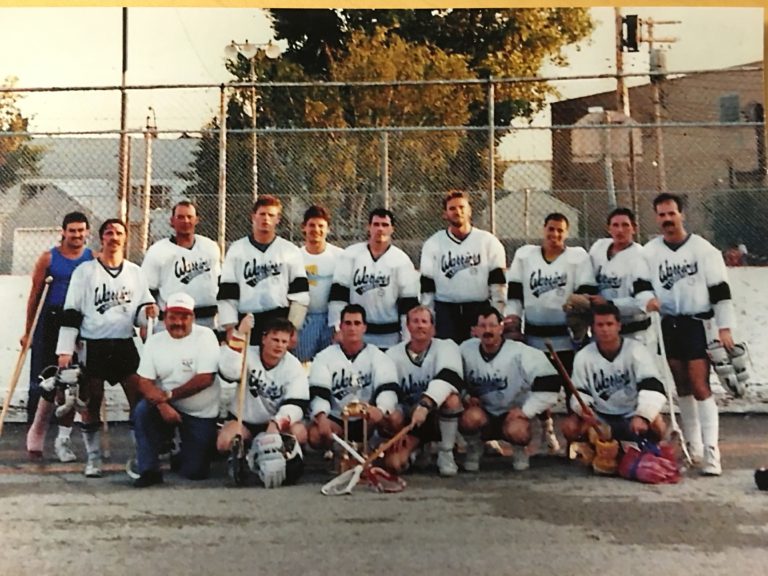 The Winnipeg Warriors Senior B Box Lacrosse Team joined the Winnipeg Senior Lacrosse League in
1982, continuing until the league's dissolution in 1991. The team was comprised of players who had
graduated to the senior level after having played at the junior level, 1977-1981, with the Warriors Junior
B club. The Warriors were instantly competitive at the senior level, advancing to the league final in
every one of the ten years of their history. In 1984 they claimed their first Free Press Trophy, emblematic
of senior box lacrosse supremacy. This marked the beginning of an unprecedented record of success as
the team went on to win a total of six Winnipeg Senior Box Lacrosse Championships during the decade.
Members of the 1982-1991 Winnipeg Warriors:
Second Row (L to R): Robert Didiuk, Allan Ziffle, Joel Smith, Peter Isfjord, Ken Mikolayanko, Glen Kerlin, Gary Stevenson, Sid Rosenbaum, Bill Klyzub, Bob Sylvester First Row (L to R): Wes Huta (manager), Tim Isfjord, Tony Szczepanski, Larry Ziffle,